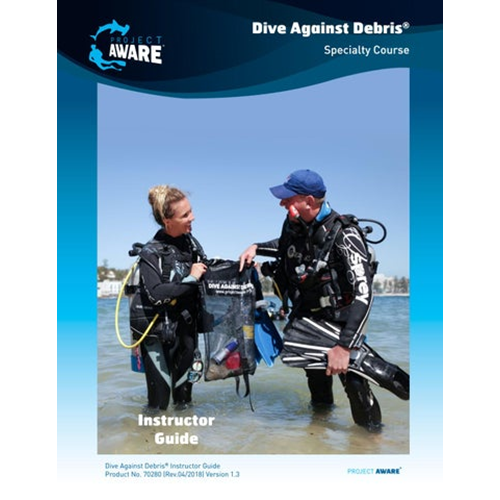 PADI
Dive Against Debris Distinctive Specialty Instructor
Stock No. DADSI
Led by you, the PADI Instructor, now divers of all experience levels can be equipped with better knowledge of debris issues and empowered with the skills to complete ongoing Dive Against Debris surveys.
From planning the dive to reporting the debris data, the Dive Against Debris Distinctive Specialty prepares students to participate and support regular Dive Against Debris surveys, join other surveys, or, in case of more experienced divers, to start surveys of their own.
The course:
Educates divers about the messy problem of marine debris – the damage done, what it is, where it comes from, and how divers are part of the solution.
Equips divers with the knowledge and skills needed to conduct a Dive Against Debris survey – considerations for creating a survey dive profile, use of photography, and decision making on what to remove and what to leave behind.
Highlights the five steps needed to record and report findings from a Dive Against Debris dive – weigh, sort, record, dispose, and report.
Explains how to join the global Project AWARE movement of scuba divers protecting our ocean planet.
If you're looking to really make a difference and support a growing global army of volunteers combatting ocean trash, then teaching this course is for you. Students will gain a PADI certification which counts towards their PADI Master Scuba Diver and they'll be well on their way to leading and organizing their own surveys no matter where they live or dive. Plus your Instructor Rating counts towards your own PADI Master Scuba Diving Instructor rating.
Please note: The price of this course does not include your PADI Speciality Instructor application fees.
---
Sorry, we don't have any dates available at the moment for this course. Contact us and we'll try to accommodate you.
---